Crack WI-FI WPA Passwords with Reaver
While its somewhat common knowledge that the WEP WIFI encryption can be quite easily exploited (a basic google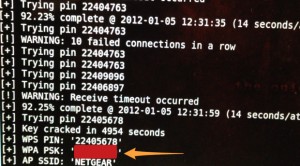 search will show you how easy if you dont know) well now WPA and WPA2 can be added to that list thanks to Reaver by 
Tactical Network Solutions
Reaver implements a brute force attack against Wifi Protected Setup (WPS) registrar PINs in order to recover WPA/WPA2 passphrases, as described in 
http://sviehb.files.wordpress.com/2011/12/viehboeck_wps.pdf
. It has a free open source version that you can easily run with slim to no experience using
Backtrack5
& more info, including guides and resources are in the following links:
http://code.google.com/p/reaver-wps/
http://www.tacnetsol.com/news/
Reaver Pro in action here
TNS Reaver Pro Demo
from
Tactical Network Solutions
Lifehacker even have a detailed guide for complete beginners
here
In a nutshell:
Being that this exploits the WPS protocal (or easy setup/one button setup option) which 99% of wireless routers have, its reach is very broad. Bad news for most Linksys Cisco tplink and common dlink product owners….there's not much you can do to stop Reaver AND they are mostly incapable of any defense or crumble easily at the best. Obviously vendors will release firmmware updates for their products to combat this, but at the same time the exploits will just continue to evolve. The best way to protect yourself is with
DD-WRT
. Ive mentioned it
before but if your router is compatible
, then install it. Being that DD-WRT doesnt support WPS it means you're safe from Reaver.
Info pprovided here is intended to educate to keep yourself protected and should not be used for bad, blah blah insert liability disclaimer here